Our Ambassadors are the Heart and Soul of the Reidsville Chamber!
The Ambassador club is a group of dedicated volunteers from various businesses throughout our community. These members act as a liaison between the Chamber and businesses that are Chamber members. Their mission is to welcome, nurture, and recruit Chamber members. In addition, Ambassadors act as goodwill representatives at various Chamber functions, and also aid in the support of members.
Consider becoming an Ambassador if you strive to build relationships with potential business partners, while also supporting the Chamber. For more information, please contact the Chamber Staff at info@reidsvillechamber.org or 336-349-8481.
David Barham, Mpressed Mobile Dry Cleaners
Jennifer Brown, Woodforest National Bank
Rosetta Brown, First National Bank
Zach Brown, Wilkerson Funeral Home
Cecil Cottrell, Mount Jubilee Ministires, Inc.
Annette Dunlap, The Massage Spot
Debbie Ellis, Vocational Rehabilitation
Donna Evans, First Carolina Bank
Tim Goodman, Wilkerson Funeral Home
Leonard Harrison, Carefree Merchant Processing
Susie Harrover, First Carolina Bank
Terri Hill, RE/MAX Blue Sky
Tim Kemp, First Piedmont Corporation
Marie Martin, J. Michael Fargis & Associates LLP
Rosie Moreno, AmeriStaff Staffing Solutions
Debbie Powell, Curis at Reidsville
Melody Turner, Reisdville Orthodontics
Vickie Washburn, First National Bank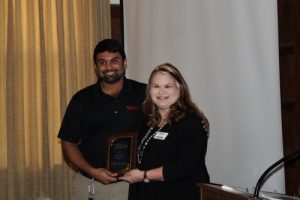 Congratulations to the Reidsville Chamber of Commerce's 2016 Ambassador of the Year, Rajiv Dinakaran. Rajiv is the of Bojangle's Famous Chicken and Biscuits. Rajiv is a wonderful Ambassador, and the Chamber is so thankful for everything he does for us!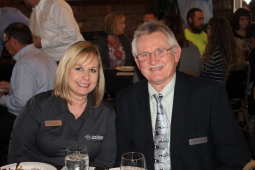 Former Ambassador of the Year, Tim Kemp with co-worker Amy Meadows, both of First Piedmont Corporation at the 2016 Annual Awards Banquet,
February 2017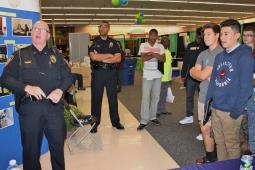 Ambassador Lt. Chuck Evitt speaks with students from Reidsville and Rockingham County High Schools at the Business Showcase Career Fair in October 2016.