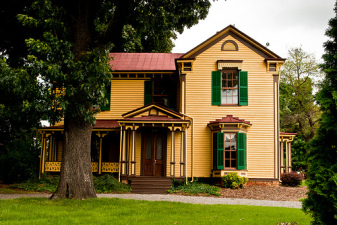 The early roots of Reidsville, incorporated in 1873 by the State Legislature, date back to the early 1800s when William Wright of the Little Troublesome Creek area owned a tavern and store on the road connecting Danville, Va. and Salem. This outpost, called Wright's Cross Roads, was the earliest settlement in the present-day City and was overseen by Wright's son, Nathan, and then Nathan Wright's son-in-law, Robert Payne Richardson. Richardson's home, built in 1842 on a knoll overlooking Little Troublesome Creek, still remains on Richardson Drive and has the distinction of being the oldest standing house in the city.
Reuben Reid of the Hogan's Creek area would move his family, including wife, Elizabeth Williams Settle, and son, David Settle Reid, to a 700-acre farm on the ridge between Wolf Island and Little Troublesome creeks in May, 1814. Reuben Reid became a successful farmer, operated a store and a public inn maintained in a private home and served the county as a constable and justice of the peace. When the family secured a post office, aptly named Reidsville, in 1829, 16-year-old David Reid was appointed its first postmaster. He would later become a State Senator (1835-42), a U.S. Congressman (1843-47), Governor of North Carolina (1850) and a U.S. Senator (1854).
On Nov. 26, 1858, William Lindsey of Pittsylvania County, Va., was high bidder for a 384-acre tract of land known as Reidsville. He and his bride, Sarah Holderby, a daughter of Joseph Holderby of the northern part of the county, moved into the frame house Reuben Reid had built across from his store. It is now a landmark in Reidsville, the first frame house built in the village.
Reidsville is located near the center of Rockingham County. The Southern Railroad passes through the center of the City from north to south. The town was incorporated in 1873 by the Legislature. Tobacco was a mainstay of the local economy for many years, with the history of the City tightly woven with that of American Tobacco Company. With the sale of American Tobacco in 1994, leaders here diversified the local economy and established Reidsville as a small town with big plans for the future, a City where residents "Live Simply. Think Big."
Reidsville Historic Preservation Commission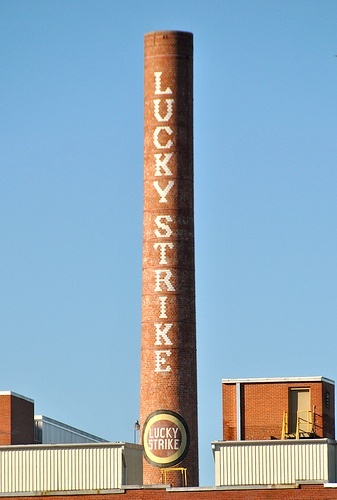 "Live Simply. Think Big." is the City of Reidsville's motto, but what does it mean? We are a City bred in the "company town" mentality where tobacco reigned supreme. At one time, the town's very existence centered around the railroad and our largest employer, A merican Tobacco Company, and we remain grateful for the growth and prosperity that both gave to our fair City. But just as both of these industries have stagnated over the years, Reidsville was stagnating as well, trying to find its identity.
City Leaders understood that to survive and thrive we had to break free from the manufacturing industry to which we were so accustomed. They knew that our economy needed to diversify, seeking several small- to medium-sized industries to help rebuild our community so that we would never rely so heavily on one employer again. Due to their foresight, Reidsville now has a premiere industrial park and a revitalized downtown. Much money has been spent downtown because it is the "face" of our small community. These efforts have led to the emergence of a growing arts community in Reidsville, which is reflective of the talent that can be found throughout Rockingham County. The addition of Market Square to the downtown landscape has given Reidsville residents a place to gather and enjoy a variety of outings, from concerts to movie nights to special events.
The recognition that came from Reidsville receiving the coveted "All-America City" award in 2008 has helped the City shine, showcasing Reidsville not only to visitors but also to its residents. It has reminded us all that, while not perfect, Reidsville is a caring community that takes care of its own. This was reflected in the service projects and organizations that helped Reidsville win the prestigious award.
So, in Reidsville, we live simply. We have not been swallowed up by the larger cities nearby. We have retained the small-town, unique personna that reminds us all why we love our town. Yet, we are no longer living in the past but continue to look toward the future. We are constantly seeking ways to improve Reidsville for our residents. We are "thinking big" without losing our small-town atmosphere.
And that is why Reidsville will continue to grow and prosper. Because we are Reidsville. We are proud. We love the town where we "Live Simply" and "Think Big." Come join us!