Covid-19 Employee / Community Resources
Resources for Parents & Community Members:
Information About Unemployment:
Filing for Unemployment Benefits
The fastest and most efficient way to file a new claim is to create an online account and file online at http://des.nc.gov
If you're temporarily out of work or your working hours have been reduced due to COVID-19, choose 'coronavirus' as your reason for separation when filing your claim.
Remember, you must complete a Weekly Certification each week to receive benefits for that week. Sign into your online account to complete your Weekly Certification.
Eligibility, the exact amount of benefits and the duration period of those benefits cannot be determined until after you file your claim.
After you file your claim, your last employer is given, by law, 10 days to respond to DES about your claim. No payment will be released until after this 10-day period.
If there are no issues with a claim, individuals typically receive payment within about 14 days of filing their initial claim.
Update: INFORMATION FOR ESSENTIAL WORKERS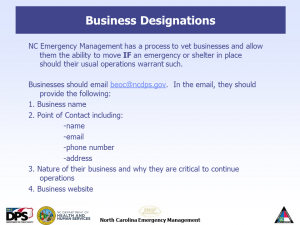 Please send the below information to beoc@ncdps.gov.
Business name
Point of Contact including:
-name
-email
-phone number
-address
Nature of their business and why they are critical to continue operations
Business websiteEXAMPLE LETTER FOR REIDSVILLE CHAMBER MEMBER BUSINESSES
Letter from the US Chamber of Commerce to the President regarding essential businesses
Resources for UV Light, Disenfecting, Etc:
DISCCA Environmental Services: Article about Robots ; Contact 336-299-7070 for information about UV lights, robots, etc.
Elevated Environmental Service : Website Here  EMERGENCY CONTACT 1-800-718-7144
COVID-19 Resources from CEFS and Partners
Resources for Farmers and Farmworkers

Resources for Farmers Markets

Resources for Restaurants and Other Food Businesses
Resources for Consumers
Processors and Supply Chain Resources
Meals for those with Limited Food Access