COVID-19 (Coronavirus Resources & Information)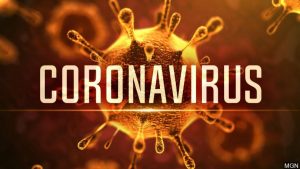 The Reidsville Chamber of Commerce & Visitor Center is committed to bringing you the most current information regarding our community and the impact of the COVID-19 (Coronavirus).
City of Reidsville Updates: 
Reidsville City Council adopted a proclamation on Friday. It takes effect at 6pm Monday, April 6th. What does this mean for you and your business?
NC Governor Roy Cooper Updates:
GOVERNOR ROY COOPER REQUESTS THE US SMALL BUSINESS ADMINISTRATION grant a disaster deceleration for business owners in the state facing economic losses due to COVID-19. See information here
Hometown Strong - Roy Coopers Committment to RURAL NC See website here
Executive Orders related to COVID-19 by NC Governor Roy Cooper:
****Rockingham County Economic Development Office FAQ about Executive Order 121 Download Here
Resources for businesses:
Are you cancelling an event or meeting?
Information from Southeaster Data Comm,  a local Chamber member business: "for the duration of the Covid-19 crisis, I am willing to wave all initial programming and installation costs. We can also get them new lines for their phone system and forward their current lines to it so they will not be out of service. I an go into more detail with anyone interested in knowing more. Average cost per user is between $20 and $30 per month. The more users, the cheaper the cost per month. And until we are told we can't leave the house, I am still able to come onsite and take care of any other phone issues." See his FLYER HERE   Call Tim Robertson @ 336.207.0554
Also, consider hosting your event or meeting virtually using the free version of:
SCORE: How Small Businesses Can Prepare
NC Department of Commerce Employment Security Click HERE for Unemployment Information
City of Reidsville Website & Resources: See here for more information
NCDHHS Phase One Business Materials Download Materials Here
American Industrial Hygiene Association Download Materials Here
Johns Hopkins' Center for Health Security Download Materials Here
FUNDING RESOURCES
Thread Capital (NC Rural Center) – contact 919-212-4950; Email: connect@threadcap.org; Website: https://www.threadcap.org/; Thread Capital was launched in 2018 by the NC Rural Center and continues to be an operating subsidiary of the Center.  Located in Raleigh
Self-Help Credit Union – (800) 476-7428; Website: self-help.org (alternative lending institution)
Carolina Small Business Development Fund (formerly The Support Center) – (919) 803-1437; Website: https://carolinasmallbusiness.org/; Loan Products: https://carolinasmallbusiness.org/loans/loan-products/
NC Community Development Initiative – Certified Community Development Financial Institution (CDFI), Phone:    919.828.5655; Website: http://ncinitiative.org ; has great market research information too - http://ncinitiative.org/resource-center/
SBA Economic Disaster Loan Program: SBA Link
Golden Leaf: The North Carolina COVID-19 Rapid Recovery Lending program supports North Carolina small businesses and family farms as they recover from the economic impact of COVID-19. This rapid recovery loan helps small businesses bridge the gap between when crisis strikes and when federal loans, insurance payouts, and other relief funds are approved, or businesses have time to recover. Click here for NC COVID-19 Rapid Recovery Loans
Reidsville Area Foundation: Reidsville Area Foundation will continue to accept grant requests surrounding our four funding priorities: early childhood, education, community development, and health and wellness. In addition, we have created COVID-19 Emergency Response Grants, a funding support structure for organizations in Rockingham County that are highly impacted by COVID-19.Reidsville Area Foundation will deploy COVID-19 Emergency Response Grants rapidly through an expedited application process to community based organizations responding to the immediate needs of residents during the pandemic. We have mobilized a review process to make decisions as quickly as possible. Public charities, governmental units, and public institutions that serve Rockingham County residents are eligible to apply. We are available to discuss your COVID-19 project and we encourage you to reach out to our staff prior to your grant submission. Please call us at 336-634-1669 in order to schedule a grant consultation. You may also email Tango Moore, tmoore@rafoundation.org or Dawn Charaba, dcharaba@rafoundation.org.    RAF COVID 19 Application Form
The N.C. Restaurant & Lodging Association Foundation has created the NC Restaurant Relief Fund. The goal is to provide qualified applicants with $500 within five days of their application to help with the immediate expenses faced by many who have suddenly found themselves without work. Please donate if possible and apply if needed. Link HERE
GoFundMe has partnered with Yelp and Intuit QuickBooks to create a Small Business Relief Fund to help small businesses negatively affected by the COVID-19 pandemic. Each of these three companies has contributed $500,000 to the Fund, and it's receiving additional donations from the public. The fund will provide $500 grants to any small business that raises $500 on GoFundMe. Find out more / donate / set up your fundraiser:  HERE
The Red Backpack Fund is offering grants of up to $5,000 for women-owned businesses. Application period begins April 6. More info at link: HERE

PBA COVID-19 Relief Fund: Professional Beauty Association: With generous support from our industry partners, the Professional Beauty Association (PBA) and PBA Charities have created a new fund to help our industry during this unprecedented crisis.

The PBA COVID-19 Relief Fund will provide $500 to licensed beauty professionals who are unable to work due to COVID-19. The funding, if awarded to you, is intended to be emergency aid for short-term immediate needs such as food and bills. Apply HERE

Rockingham County CED Grant:Citizens for Economic Development, in partnership with Rockingham County Economic Development, announced a new funding stream for micro-businesses in Rockingham County who are being impacted by the COVID-19 pandemic.Economic Development has been working with the Citizens for Economic Development (CED) to develop a grant package for Rockingham County micro-businesses, defined as businesses with less than 10 full-time employees, to apply starting Monday, April 13th. Each grant will be for $1,250 and will serve as a supplement to assist with rent/mortgage, employee support (salaries, insurance, paid leave), utilities (i.e. electricity, phone/internet, etc.), purchase of COVID-19 supplies for business protection/cleaning, expenses associated with marketing, and such. All Rockingham County micro-businesses are eligible to apply although priority will be given to businesses whose business model relies on face-to-face customer interaction, such as boutiques, salons, spas, restaurants, breweries, performing studios and art galleries."Many of our micro-businesses, the majority of whom are located in our vital downtowns, rely on customer interaction to survive. The prolonged "stay at home" order due to COVID-19, has made it nearly impossible for some of these entities to stay open. In an effort to help keep these businesses afloat we are pleased to partner with CED to offer this grant, said Leigh Cockram, Rockingham County Economic Development Director."It is our hope that this grant opportunity will allow us to lend a helping hand to our local micro-businesses," states Grayson Whitt, Chairman of Citizens for Economic Development. "With so many of our local businesses suffering a dramatic and sudden loss in revenue, we want to remind them we are here for them to lean on and hope these funds will help alleviate any financial burdens they may be feeling during this time."

A copy of the grant application can be downloaded from Rockingham County Economic Development's website at https://www.gorockinghamcountync.com/covid-19-information-and-resources/.  Completed applications should be emailed to bbrame@co.rockingham.nc.us or mailed to P.O. 66, Wentworth, N.C. 27375. Applications should be completed in their entirety to be considered.

For more information, questions, or for ways to help, please contact Tara Martin, Economic Development Marketing Manager at tmartin@co.rockingham.nc.us.

The Paycheck Protection Program prioritizes millions of Americans employed by small businesses by authorizing up to $349 billion toward job retention and certain other expenses.

Small businesses and eligible nonprofit organizations, Veterans organizations, and Tribal businesses described in the Small Business Act, as well as individuals who are self-employed or are independent contractors, are eligible if they also meet program size standards.
Update: INFORMATION FOR ESSENTIAL WORKERS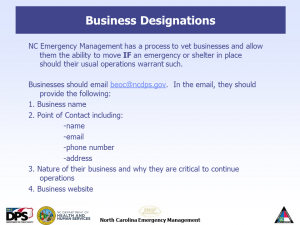 Please send the below information to beoc@ncdps.gov.
Business name
Point of Contact including:
-name
-email
-phone number
-address
Nature of their business and why they are critical to continue operations
Business websiteEXAMPLE LETTER FOR REIDSVILLE CHAMBER MEMBER BUSINESSES
Letter from the US Chamber of Commerce to the President regarding essential businesses
Information About Unemployment:
Filing for Unemployment Benefits
The fastest and most efficient way to file a new claim is to create an online account and file online at http://des.nc.gov
If you're temporarily out of work or your working hours have been reduced due to COVID-19, choose 'coronavirus' as your reason for separation when filing your claim.
Remember, you must complete a Weekly Certification each week to receive benefits for that week. Sign into your online account to complete your Weekly Certification.
Eligibility, the exact amount of benefits and the duration period of those benefits cannot be determined until after you file your claim.
After you file your claim, your last employer is given, by law, 10 days to respond to DES about your claim. No payment will be released until after this 10-day period.
If there are no issues with a claim, individuals typically receive payment within about 14 days of filing their initial claim.
STIMULUS PACKAGE Information:
Source: Raymond James NC 
*Thank you to our local Raymond James Financial Advisor- Kirk Smith
Paycheck Protection/Small Business Relief
● $349 billion in SBA 7(a) loans to small businesses to cover payroll from 2/15/2020-6/30/2020.
● Covers payroll for individual employees up to $100,000 in annual compensation, expands definition of eligible employees.
● Small business is defined at 500 or fewer employees or (if applicable) a number chosen by the Small Business Administration.
● Restaurants and Lodging (North American Industry Classification (NAIC) Code 72) that does not employee more than 500 employees per
physical location eligible for loan. The waiver of affiliate rules include "any business concern operating as a franchise that is assigned a
franchise identified code by" the SBA. SBA affiliate code list.
● Allowable use of funds: Group health care benefits, payroll, interest payments on mortgage interest obligations, rent, utilities, and interest
on any other debt obligations.
● Loans calculated on average monthly payroll x 2.5 up to a maximum of $10 million. Maximum interest rate of 4%, minimum deferred repayment
of 6 months, but can be up to 1-year.
● These 7(a) loans have a zero risk weight for federal bank capital requirements, cannot be sold to secondary market until loan recipient
has requested the loan forgiveness provided. Excluded from troubled debt relief restructuring (TDR) under CECL, until regulators deem
appropriate. Lenders reimbursed 5% of the balance for processing loan. Loans have 100% SBA guarantee. Additional lenders will be added
to 7(a) program to facilitate program.
● $10 billion in grants up to $10,000, $17 billion to pay existing SBA loans
● Loan forgiveness: Borrowers will have any payroll costs, mortgage payments, rent payments, and utility payments reduced from principal
amount of loan. Loan forgiveness is a calculation of % of employees retained during covered period – 2/15/20 - 6/30/20.
● Utility defined as: Electricity, gas, water, transportation, telephone, or internet access for which service began before 2/15/2020.
Unemployment Assistance
● Unemployment coverage for 4-months.
● Additional $600 per week over state-level assistance.
● States fully reimbursed for coverage.
● Outreach campaign to prevent layoffs via other programs.
● No limitation on funds.
Checks to Individuals
● $1,200 per adult ($2,400 for joint filers), plus $500 per dependent.
● Phased out for individuals with adjusted gross income above $75,000.
● Direct deposit for previous direct deposit tax returns.
Retirement Funds
● Withdrawals up to $100,000 exempt from certain tax penalties – deemed "coronavirus-related distribution."
● Loans up to $100,000 from qualified plans not treated as distribution, current loans extended by 1-year.
● No Required minimum distributions (RMD) in 2020.
● Distributions may be repaid over 3-year period.
● Covered period is 1/1/20-12/31/20.
● Eligibility – Individual or spouse test positive for COVID-19, experiences adverse financial consequences of being quarantined, furloughed or
laid off or having work hours reduced due to a lack of child care, closing or reduced hours of a business owned or operated by an individual,
or factors determined by the Secretary of the Treasury.
● Taxable income spread over 3-year period.
● Minimum contributions to single-employer pension plans are delayed until January 1, 2021.
● Please see full text of bill for specific provisions, as many are technical tax-related issues.

Support for Impacted Industries/General Economic Support
● $500 billion fund.
● $454 billion for loans and loan guarantees to, and other investments in, programs established by the Federal Reserve to eligible businesses,
states, and municipalities.
● $50 billion for airlines, $8 billion for air cargo carriers, $17 billion national security business.
● Credit fund: Purchase obligations or other interests directly from issuers or from secondary markets.
Treasury Loan and Loan Guarantee Fund and Federal Reserve Programs
● Criteria: Credit is not reasonably available at the time of transaction, it is a prudent loan, loan is sufficiently secured or made at a rate that
reflects the risk of the loan, and to extent practicable not less than the interest rate based upon market conditions pre-COVID-19. Borrower
must have occurred or is expected to incur losses that the continued operation of the business are jeopardized.
● Rates on loans: Determined by the Treasury Secretary based on the risk and the current average yield on US Treasuries of comparable maturity.
● Duration: Short as possible, not longer than 5-years.
● Support for medium-sized businesses: financing to banks and other lenders that make loans to businesses/nonprofits between 500-10,000
employees w/ rate capped at 2%. Payments deferred for 6 months or longer at the determination of Treasury Secretary. 90% of workforce
must be retained at full comp/benefits until September 30. No dividends/buybacks while loan outstanding. No outsourcing/offshoring jobs
for 2 years after repayment of loan.
● Fed loan programs allow for direct loans.
● Prohibitions while the loan is outstanding: No buybacks (loan term plus 1-year). Treasury can waive buyback provision for loans through Fed
facility, if not necessary to protect US taxpayers.
● No loan forgiveness, businesses receiving support must maintain employment levels as of March 24 to extent practicable but not reduce
employment by more than 10% from that date.
● Treasury Secretary will publish application and minimum requirements within 10-days of enactment. Real-time reporting of loans, President,
Vice President, Members of Congress, Cabinet heads prohibited from receiving benefits.
● Financial institutions including depositories, brokers, dealers, and others can be hired by Treasury to facilitate these programs as financial
agents.
● Sets up Congressional 5 member oversight panel on government business aid with reports due to Congress by Fed/Treasury every 30 days.
Airlines
● $50 billion total funding.
● $25 billion in loan and loan guarantees/$25 billion for airline worker salaries.
● Suspension of certain excise taxes through 1/1/21.
● Equity stakes (but just for airline, air cargo and national security funds): Compensation for federal government shall be "commensurate to
the risk assumed," Treasury is required to liquidate any equity interest acquired as soon as reasonably practicable (consistent with maximum
returns for the US government), Treasury shall not exercise any voting power with respect to any shares of common stock.
● Executive compensation restrictions (just for airlines, air cargo and national security loans): Compensation for employees earning more than
$425,000 is capped at 2019 compensation/severance cap at two times 2019 compensation.
● Support to continue essential air service.
Business Tax Provisions
● Delay of employer payroll taxes (50% due 12/31/2021 and 50% due 12/31/2022).
● Return of use of net operating loss (NOL).
● Changes Trump Tax Act minimum tax liability provisions.
● Increases limits on business interest from 30% to 50% for tax years 2019 and 2020.
● Establishment of worker-retention tax credit.
● Property improvements for retail, hotels, restaurants are deductible from taxes - fixing glitch in new tax law.
Bank Provisions
● Allows FDIC to provide unlimited deposit insurance through 12/31/20.
● Lowers community bank ratio to 8%, banks below will be given reasonable grace period to satisfy ratio.
● Temporary relief from troubled debt restructuring (TDR).
● Optional temporary relief from Current Expected Credit Losses (CECL) through the earlier of 12/31/2020 or the termination of the current public
health emergency.
● Waives lending limit and adds non-bank financial companies to assist in distributing funds.
● Temporarily waives credit union business loan cap through 12/31/2020.
● Zero risk weighting and 100% guarantee on SBA 7(a) loans.
Healthcare Funding
● $100 billion provider fund to help offset costs to hospitals and other providers.
● Eliminates Medicare 2% sequester through the end of the year.
● Encourages telehealth use through lessening requirements during the emergency.
● $4.3 billion for state and local outbreak response measures (equipment, testing, mitigation, etc).
● $16 billion in funding for increasing the strategic national stockpile of drugs, protective equipment, and other medical supplies.
● $45 billion in additional funding for FEMA's Disaster Relief Fund for state and local emergency response.
● Eases some conditions laid out under activation of the Defense Production Act such as required procedural findings to hasten production of
critical medical resources. $1 billion in funding to hasten production of critical items.
Medicare diagnostic payment rate reporting delay
● Medicare reporting period for private sector payment rates on diagnostic laboratory tests is delayed for one year from the current designated
dates.
Speeding up over the counter drug approval
● Over the counter (OTC) drugs can be determined to be safe and effective by the FDA secretary without an approved drug application.
Educational Provisions
● $30 billion in overall emergency education funding for instructional continuity.
● Payments suspended for federal student borrowers through September 30, 2020 with no interest accrual during suspended period.
● Federal loan repayment requirements waived for students that withdraw from institutions during the emergency situation.
● Satisfactory credit completion requirements for loans waived without appeal by students.Miscellaneous/Mortgage Provisions
● 120-day moratorium on evictions.
● Forbearance to be granted on federally-backed mortgage loans for 60 days extendable up to 120 days thereafter.
● $10 billion borrowing authority for USPS.
● $10 billion for airports.
● $25 billion for mass transit systems/$1 billion for Amtrak.
● $340 billion: emergency appropriations supplemental for government agency response efforts. A full breakdown by government agency/
program is available here.
Resources for UV Light, Disenfecting, Etc:
DISCCA Environmental Services: Article about Robots ; Contact 336-299-7070 for information about UV lights, robots, etc.
Elevated Environmental Service : Website Here  EMERGENCY CONTACT 1-800-718-7144
COVID-19 Resources from CEFS and Partners
Resources for Farmers and Farmworkers

Resources for Farmers Markets

Resources for Restaurants and Other Food Businesses
Resources for Consumers
Processors and Supply Chain Resources
Meals for those with Limited Food Access